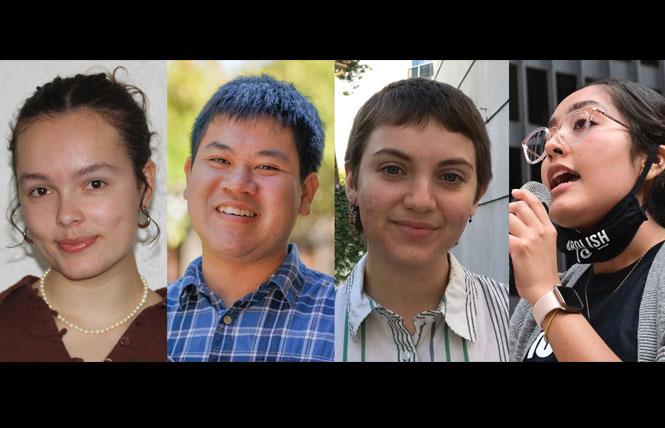 4 Bay Area students among Zamora scholars
Four Bay Area students are among the latest group to receive Pedro Zamora Young Leaders Scholarships from the National AIDS Memorial Grove.
The $5,000 scholarships provide financial support for the academic aspirations of young activists working to advance health and social justice in their communities, according to a press release from the AIDS Grove, located in San Francisco's Golden Gate Park.
The scholarship is named in honor of Zamora, the late educator, activist, and reality television pioneer who died in 1994 of an AIDS-related illness.
Two students are from UC Berkeley – Olivia Freidenreich and Peter Pham. Freidenreich is a freshman at Cal and is exploring the intersection between literature, art and social justice at the College of Humanities and Science, according to a press release. She advocated for her peers for Planned Parenthood and spoke with other high school students at Sen. Anthony Portantino's (D-Pasadena) annual HIV/AIDS summit.
She also worked as an intern for the Law Enforcement Accountability Unit at the Los Angeles County Public Defender's Office, which tracked shootings and deaths in custody. Freudenreich plans to continue its work at the convergence of criminal justice, reproductive health and art.
"By connecting with other advocates and artists, I realized that my motivation to do this type of work was more than a hobby," she said. "It's a fierce passion that I will carry with me into the future."
Pham is a transfer student from a community college to Cal, where he is studying public health and molecular environmental biology. His goal is to become a public health physician. Her work draws on community organizing and advocacy to address the discrimination and shame faced by LGBTQ+ and HIV-positive people. He was a pediatric COVID vaccine researcher for Pfizer.
"I hope to continue the fight against HIV/AIDS on the scientific front in addition to the legislative front," he said.
Leo Parrott is a scholar attending the University of San Francisco. They are in their second year and enrolled in the USF nursing program. Parrott has worked in healthcare as a medical assistant providing services including sexually transmitted infection testing, PrEP management and hormone replacement therapy. Outside of work, they have participated in gender-nonconforming, transgender-focused peer support groups at the Pacific Center for Human Growth in Berkeley and the Transgender District in San Francisco.
"As a patient and provider, my experiences within the healthcare system have confirmed the current need for competent LGBTQ+ care," they said.
Jashui Zarate Torres is a freshman at the Dominican University of San Rafael. She plans to become a psychiatrist with a focus on research and advocacy for immigrant rights. She served as an intern for the Southwest Suburban Immigrant Project and a community health worker during the COVID-19 pandemic to help distribute quality resources and translation services to those in need.
"My involvement in activism comes from a passion in my heart and a desire to see true liberation for all," she said.
The other recipients are: Liggera Edmonds-Allen, a student at Carnegie Mellon University in Pittsburgh; Evan Gates, a sophomore at the University of Miami in Ohio; Treasure Joiner, a freshman at Tulane University in New Orleans; Espoir Ledieu, senior at Arizona State University's WP Carey School of Business; Craig McFarland, sophomore at Harvard College in Cambridge, Massachusetts; Aisha Tipnis, a student at Brown University in Rhode Island; and Andrea Volcan, senior at the University of North Carolina-Chapel Hill.
The scholarships are provided by Gilead Sciences, Inc. and other partners, the AIDS grove said. Since 2009, over $410,000 in scholarships have been awarded to 112 students.
High school and college students can apply for the upcoming Zamora scholarships here. The deadline is July 15.
SF Masking Updates
Starting March 18, San Francisco city officials will strongly recommend, but not require, that people wear masks at city facilities, while face coverings are still required at courthouses. , according to two press releases.
In accordance with state guidelines, indoor masking will no longer be required in City Hall and City facilities beginning next Friday. These include libraries, recreation centers, offices and other city-run service sites, according to a press release from the city administrator's office. However, as the San Francisco Department of Public Health has advised, it is strongly recommended that unvaccinated individuals, in particular, continue to wear masks indoors.
Masks are still needed in health care settings, congregational facilities like correctional facilities and homeless shelters, and long-term care facilities.
Federal and state laws continue to require masks on public transportation.
Meanwhile, the San Francisco Superior Court announced that face coverings will remain mandatory in all courthouses.
"The health and safety of the public remains our top priority," Presiding Judge Samuel K. Feng said. "We will continue to monitor health and safety guidelines, but at this stage we will proceed with caution and continue our policy of requiring masks for all who enter our courts."
The court will reschedule or postpone hearing dates, if necessary, to accommodate those who are ill due to COVID-19, the statement said.
SF launches "Be the Jury" pilot program
San Francisco this week launched the "Be the Jury" pilot program at San Francisco Superior Court, which will compensate low-to-moderate income jurors $100 a day for their jury service. The program was created with the goal of establishing juries that more reflect San Francisco's diverse communities, according to a joint press release from the Public Defender's Office, the District Attorney's Office and the SF Financial Justice Project.
Prospective jurors will now receive information about the pilot program with their jury summons. Judges will also notify potential jurors when they arrive for jury service, the statement said.
To learn more about the program, call 311 or visit website (click on "jury report instructions").
Fluid to hold a queer cafe conference
Fluid Cooperative Cafe, a trans-owned cafe in the Tenderloin, will hold its Queer Coffee conference March 25-27 at the 332 Golden Gate Avenue store in San Francisco.
The conference, which is free, will feature keynote speeches from the biggest queer coffee icons, according to an email announcement. A three-part workshop program based on coffee, entrepreneurship and event management, as well as two "coffee shots" organized in collaboration with Glitter Cat will also be offered.
In the announcement, organizers said "the conference came about after Fluid members noticed the coffee industry's lack of safe and inclusive events for queer and trans people."
For more information and to register, Click here.
Alameda supe launches young nurturers project
Alameda County Supervisor Dave Brown announced that his office is looking for 10 former youth adoptees who can design and deliver a guaranteed income program for former youth adoptees in the county.
Young leaders will conduct a needs assessment, research guaranteed income programs and develop a proposal that would support youth development.
Brown, who was appointed to the District 3 board seat following the death last year of former supervisor Wilma Chan, said in an email announcement that he has long been an advocate for young people in foster and transitional families.
Interested persons should complete a simple request before Tuesday, March 15.
Help keep the Bay Area Reporter going during these difficult times. To support local, independent and LGBTQ journalism, consider become a member of the BAR.