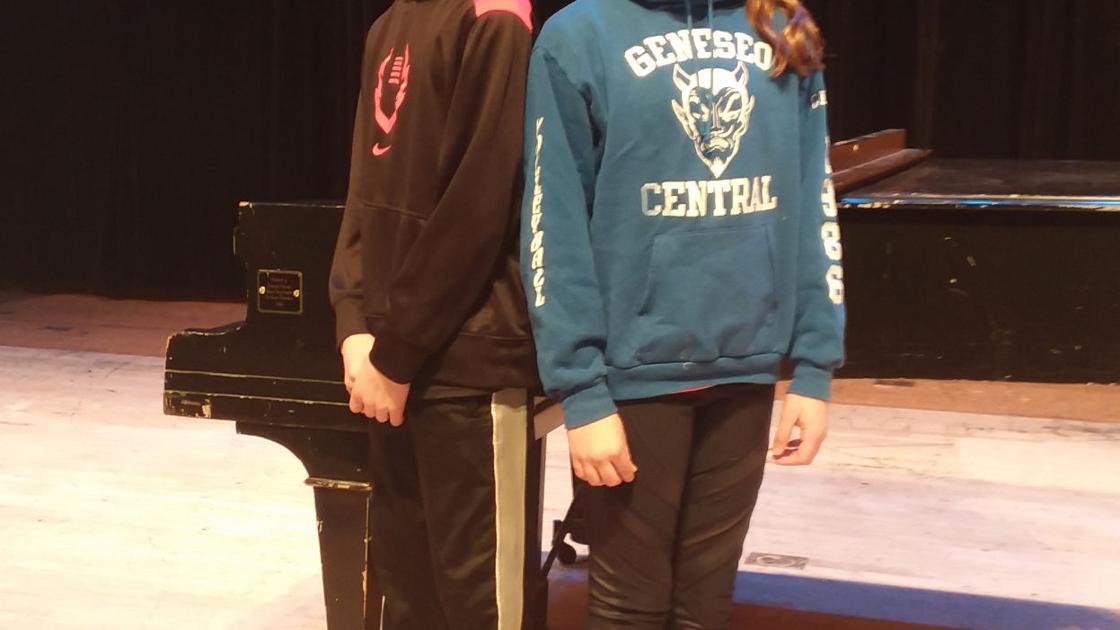 actors of Geneseo Central tread the boards of the colleges | Local News
Two students from the Geneseo central school take a more important step.
Freshman Joey DeBell and seventh-year student Poppy Thomas are both "on the stage," as they say, in college theater productions this month.
Joey appears in this week's production of "Pippin" at SUNY Geneseo where he is introduced as Theo, a lovable character who becomes Pippin's friend.
"Joey has brought great energy and commitment to a role that is mouth-watering, but also sensitive," said Don Kot, Music Director of "Pippin".
"Pippin", a musical by Grammy and Oscar winner Stephen Schwartz and Roger O. Hirson, tells the story of a young man trying to find his place in the world through introductions to war, sex , politics and family life. He discovers that finding fulfillment and a goal is more complicated than 15 minutes of fame and that being the center of attention isn't always what you say you are.
The production, Kot said, brought in a younger actor to play the role of Theo. He said Joey "fits the role wonderfully."
The age differences between Joey and the students – most of whom are majors in musical theater or theater – has not been a problem.
"Joey was very open, flexible, prepared, ready to work and a happy, positive spirit during rehearsals," Kot said. "These are the expectations of the students and Joey has adapted perfectly to them."
Singing and playing with the students was an inspiration to Joey.
"It's great to be able to rehearse and learn from the artists in college," said Joey. "They are really welcoming to me and have very rewarding rehearsals. "
Poppy will appear next week in a Nazareth College production of "Bonnie & Clyde," a musical that tells tales of reckless romance and bank robber-breaking adventures. Poppy plays young Bonnie.
Director Aaron Galligan-Stierle said Poppy "brings great professionalism and energy to the play".
"She has a really, really strong singing voice. She has a great mix of innocence and playfulness, or a playful quality, "he said.
Poppy "got into the experience" of acting with students. "Sometimes," said Galligan-Stierle, "you might wonder if she wasn't a student."
The production also includes her older sister Felicity Thomas as Texas Governor Miriam Ferguson. The sisters appear together in several scenes, although their characters do not interact.
"I think it's really cool that they can share something as family members," said Galligan-Stierle.
Poppy said it was fun getting to know the student playing her widowed mom Emma (Chiara Giampietro) and playing Adult Bonnie (Anna Kostakis).
"The people at the rehearsal were very nice and helpful to me," Poppy said.
Playing a younger version of one of the main characters allowed Poppy and Kostakis to work closely with the director and choreographer to find ways to connect the characters across the play. This includes finding connections between actresses, including the way they move or dance that may reflect their roles, but at different ages, and common physical traits that run through history even as they get older.
The experience "is a great opportunity to see theater on a more professional level and alongside students in training to enter it," said Galligan-Stierle. "It's a window into how the theater works. "
The director said it was "really great to have people from the community in roles."
"One of the peculiarities of theater is that it can bring together people who would not normally be in the same space," he said.
The cast of "Bonnie & Clyde" also includes Garrison Hunt, a 2017 graduate of Geneseo Central, as Henry Barrow, Clyde's father. Hunt studied musical theater in Nazareth.
Joey and Poppy, who appeared in Geneseo Central's fall musical "The Secret Garden," were cast in college productions after the auditions.
Bettina DeBell, a Geneseo in-depth studies teacher who also runs the school's drama club, said Geneseo students occasionally perform in college productions. She is sometimes contacted by colleges if there are roles for young people that they cannot fill with students.
"I think students learn a lot about working quickly to learn lines and music," DeBell said. "They learn new acting, singing and dancing skills from directors and student performers. … It's a bit like a theater boot camp, high expectations for learning and performance.
Joey DeBell, her son, previously played Young Guido in a 2016 production of "Nine" at SUNY Geneseo.
DeBell said the students generally had a lot of fun and "came back a little more focused and disciplined."
"The experience of working with professional directors and students studying to become performers gives Geneseo students an insight into the possibility of performing as part of a future study program or even a career," she declared.
"Pippin" is scheduled for 7:30 am tonight through April 13 and 2:00 pm April 14 at the Alice Austin Theater at Brodie Hall at SUNY Geneseo, 1 College Circle, Geneseo. Tickets, which cost $ 15 for general admission and $ 10 for students, are available online at https://www.geneseo.edu/bbo or in cash only at the door one hour before the curtain. The content and suggestive situations make this show more suitable for ages 12 and up. The show is directed by Scott Scaffidi with Fosse-style choreography from the Katie LeSuer choreography.
The cast also includes Brett Hammes as Pippin, Annie Levin (main player), Erin Burris (Catherine, who is Theo's mother and who falls in love with Pippin), Kelsey Roberts (Berthe), Patrick Jones (Lewis), Rocky Nardone (Charlemagne) and Katelyn Brooks (Fastrada). The set includes Eric Milliman, Miranda Calarco, Brian Sousis, Mick Elliott, Sydney Lyons, Kat Berton, Ben Bernstein, Kyle Johnson and Madelynn Maiolo.
"Bonnie & Clyde" is scheduled April 18-20 at 7:30 p.m. and April 20 at 2:00 p.m. at the Callahan Theater at the Nazareth College Arts Center, 4245 East Ave., Pittsford. Tickets, which cost $ 7.50 to $ 15, are available online at naz.edu/artscenter and by calling (585) 389-2170. The opening night performance on April 18 will feature a 'response' with the cast and Rochester City Council member Willie Lightfoot, president of the ROC Against Gun Violence Coalition.