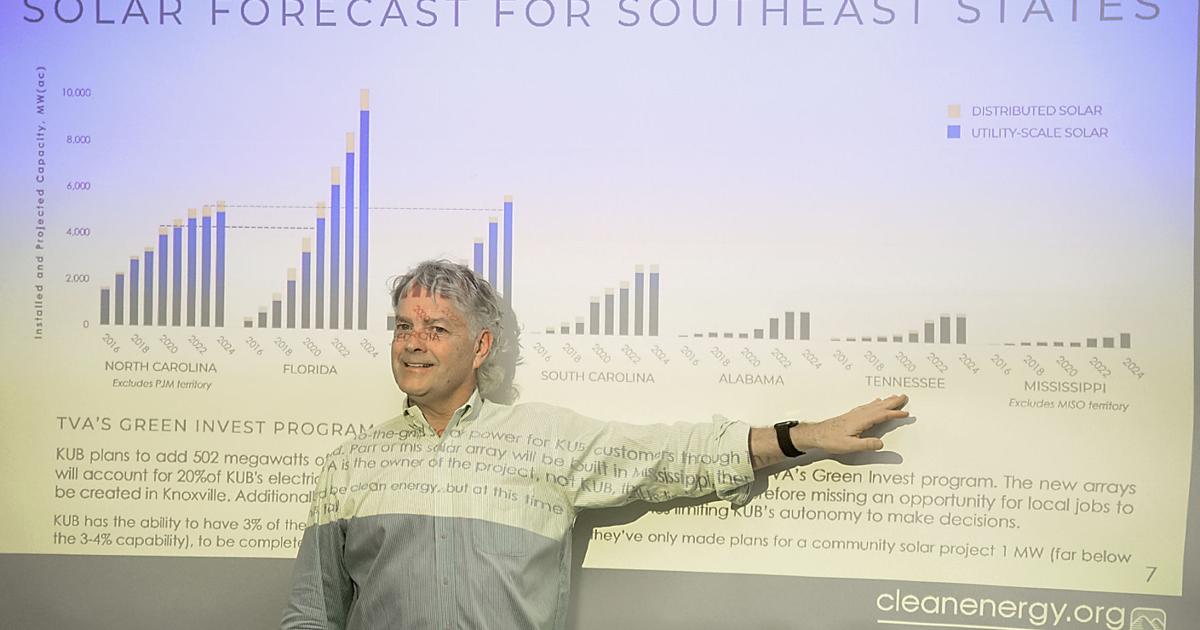 Clean energy advocate calls on Maryville College students to be part of the solution | News
On Friday, March 11, a clean energy advocate called on students at Maryville College to challenge assumptions about energy and play a role in reducing carbon emissions.
Stephen Smith, executive director of the nonprofit Southern Alliance for Clean Energy since 1993, is one of the weekly guest speakers for the introductory environmental science course for the new environmental science major. from college. Representatives from the Tennessee Valley Authority and the Knoxville Utilities Board will speak to students after spring break as they continue their study of fossil fuels and energy alternatives.
Smith told students that while studying to be a veterinarian at the University of Tennessee, "it became clear to me that if you wanted to tackle environmental issues, all you had to do was focus on how we produce and consume energy.
After a few years of veterinary practice, he opted for a career change. "Instead of killing fleas and squeezing anal glands, which I did primarily as a vet, I wanted to focus on a bigger patient, which is all of planet Earth," Smith said.
Regarding the role of humans, he said, "Are we going to be part of a healthy ecosystem or are we going to be a parasite that kills its host?
The ultimate question he posed to the students: "Are you going to be part of the solution, or are you going to be part of the problem?"
The Southeast has some of the biggest energy companies in the country, Smith said. While TVA has made progress, such as retiring about half of its coal-fired plants, it believes the producer of most of the state's energy can do much more.
"The greenest electron is the one you never use," he said. "Energy efficiency is what we really need to focus on."
Although TVA has some of the lowest electricity rates in the Southeast, he said, due to the amount of energy used, many customers spend a high percentage of their income on those bills.
Smith also denounced the decrease in what utilities pay for solar power provided by units such as the one in his home.
"Every roof that faces south, in my opinion, should have solar panels on it," Smith said. "We should have parking lots with solar panels."
Coal, oil and gas are "fossilized sunshine," he told students, and he likened removing them from the ground to a parasite and noted the impact on carbon dioxide levels. carbon since the industrial revolution.
The sun, he says, "gives all the energy we need." After showing the students the level of solar electricity available in this state compared to others in the area, Smith said, "What's up, the sun isn't shining in Tennessee?"