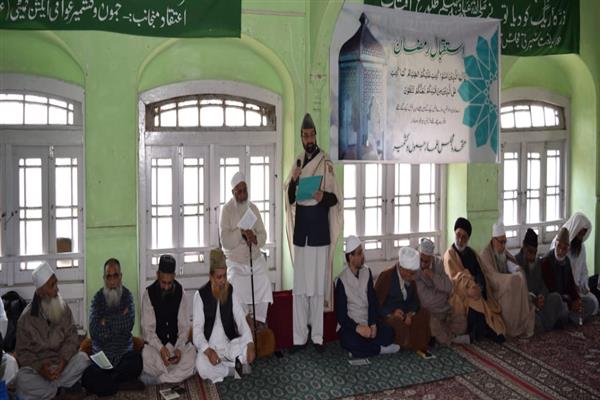 MMU condemns government order asking students and faculty members to participate in the practice of Surya Namaskar
Srinagar, Jan 14 (KNS): Mutahida Majlis-e-Ulema (MMU), J&K's amalgamation of religious organizations, said on Friday it condemned the government's order asking students, faculty members and staff of all J&K colleges to participate in 'Surya Namaskar' Practice on Makar Sankranti observed today.
The MMU, in a statement to the Kashmir News Service (KNS), said the authorities are well aware that J&K is a Muslim-majority state and that they will not participate in the religious practices of other religions.
"Deliberately forcing them to do so by issuing directives is malicious. The leaders must be clear that this is completely unacceptable to the Muslims in the state who will never give in to such authoritarianism.
He said J&K Muslims are respectful of all religions and believe in harmonious co-existence but will never yield to any pressure, if and when there is interference in matters related to their faith.
MMU said it was quite sad and told of the sad state of affairs in India, where the religious practice of one religion is promoted and enforced in the name of peace and that of the other is prohibited and barred in the name of the threat, while referring to the closing Jama Masjid.
He said the recent open call for genocide of Muslims in India by a religious conference in Haridwar and the silence of the state in this regard is a shocking case of discrimination against Muslims which has become the order of the day.
Organizations that are part of the Muttahida Majlis-e-Ulema include Anjuman Auqaf Jama Masjid, Darul Uloom Raheemiyah, Jamaith Ahli Hadees, Muslim Personal Law Council of Mufti Azam Anjuman-e-Shari'a Shiaan, Karwani Islami, Ittihadul Muslimeen, Darul Uloom Bilalia, Anjuman Tableegul Islam, Anjuman Himayaul Islam, Anjuman Nusratul Islam, Anjuman Mazharul Haq, Jamiat ul Aima Wa Ulema, Anjuman Imam Wa Mashaikh Kashmir, Darul Uloom Naqshbandia, Darul Uloom Rasheediya, Ahlul Bayt Foundation, Madrasa Kanz Ul Uloom, Pervaan -e-Wilayat, Auqaf Islamia, Muhammadi Trust, Anjuman Anwar ul Islam, Kaarvaan e Khatm e Naboowat and others. (KNS)